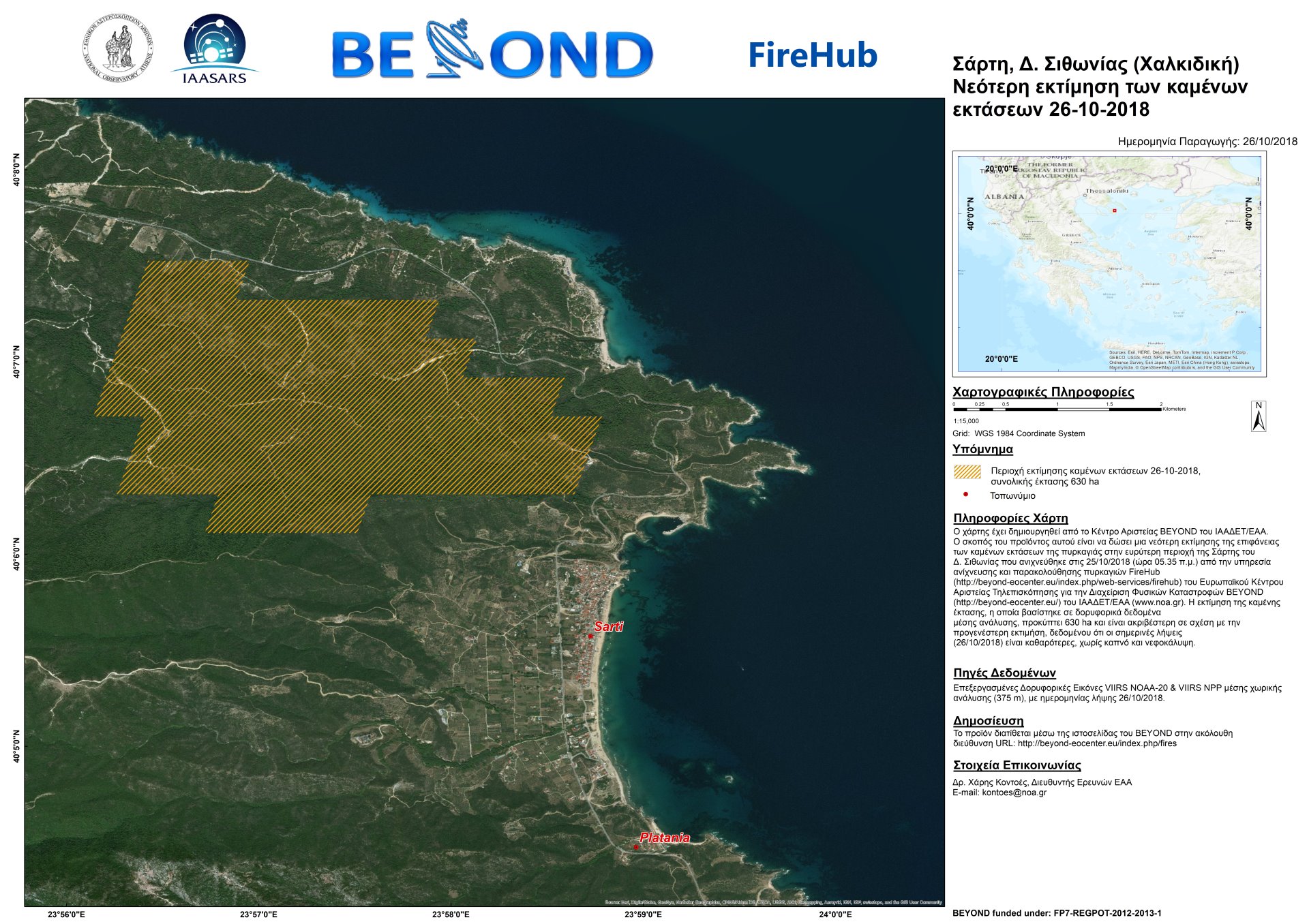 Ο παρακάτω χάρτης έχει δημιουργηθεί από το Κέντρο Αριστείας BEYOND του ΙΑΑΔΕΤ/ΕΑΑ. O σκοπός του προϊόντος αυτού είναι να δώσει μια νεότερη εκτίμησης της επιφάνειας των καμένων εκτάσεων της πυρκαγιάς στην ευρύτερη περιοχή της Σάρτης του Δ. Σιθωνίας που ανιχνεύθηκε στις 25/10/2018 (ώρα 05.35 π.μ.) από την υπηρεσία ανίχνευσης και παρακολούθησης πυρκαγιών FireHub του Ευρωπαϊκού Κέντρου Αριστείας Τηλεπισκόπησης για την Διαχείριση Φυσικών Καταστροφών BEYOND του ΙΑΑΔΕΤ/ΕΑΑ (www.noa.gr).
Η εκτίμηση της καμένης έκτασης (630ha) βασίστηκε σε δορυφορικά δεδομένα μέσης ανάλυσης VIIRS συνδυάζοντας δυο διαδοχικά περάσματα από τους δορυφόρους NOAA-20 και NPP. Η εκτίμηση αυτή είναι ακριβέστερη σε σχέση με την προγενέστερη, δεδομένου ότι οι σημερινές λήψεις (26/10/2018) είναι καθαρότερες, χωρίς καπνό και νεφοκάλυψη. Η καμένη έκταση είναι υπολογίσζεται στα 630 εκτάρια.
---
Second updated estimation by BEYOND Center of the fire in Sithonia-Chalikidiki

The estimation of the burnt area (630ha) is based on the medium spatial resolution VIIRS satellite data, combining two subsequently passes of
NOAA-20 and NPP satellites. The current estimation is more precise than the former one since the current acquisitions (26/10/2018) are not compromised by either smoke or clouds.