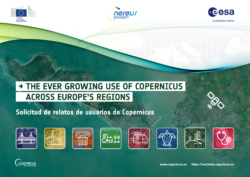 BEYOND team will participate in the Copernicus4Regions event which will take place in European Parliament on 22 and 23 of November.
The event is organising by the European Commission, the European Space Agency and the Network of European Regions Using Space Technologies (NEREUS) and user stories on
how Copernicus data help European local and regional authorities will be presented. These Copernicus user stories will be featured as a publication targeting decision-makers as well as the general public.
BEYOND is participating in one of these user stories through RECAP H2020 project, which is about "Reinforcing Common Agriculture Policy".
Download the Copernicus4regions Publication here.
http://www.nereus-regions.eu/wp-content/uploads/2017/10/PUBLICATION_Copernicus4regions_2018.pdf