In collaboration with the PRAXI Network and in the context of the "Caroline Herschel Framework Partnership Agreement" (HORIZON 2020), NOA's BEYOND Center of Excellence, undertook the implementation of educational activities on the use of satellite remote sensing at a national level, as well as in the wider region of North Africa, the Balkans, and the Middle East and (GEO-CRADLE coordination action - http://geocradle.eu/en/). During 2021the Center will conduct three training courses for organizations operating in areas of Civil Protection on the subject of "Rapid Exposure, Vulnerability and Risk Assessment Service for Natural Disasters - The Use of EMS Risk and Recovery".
What is FPCUP?
The project started in July 2018 and is led by the German Aerospace Center (DLR) and funded by the European Commission (DG DEFIS) responding on an EU-call to establish the Caroline Herschel Framework Partnership Agreement between the Commission and Copernicus Participating States. Thus, FPCUP is one specific part in the Commissions' User Uptake Strategy setting up a Framework Partnership Agreement (FPA) for User Uptake with Member States.
The project objectives are implemented in annual work programmes. The work programme contains different action proposals by the FPCUP consortium. The consortium consists of 48 partners from 23 European countries. Currently, about 70 actions are running.
The actions comprise national and international user uptake activities as well as business solutions and innovative products and applications. In the framework of FPCUP the following four actions types are supported:
National and multi-national information-/training-events (e.g. workshops, information days)
Building an active dialogue
Developing and piloting downstream applications and services
Promoting national and multi-national innovative actions
FPCUP Info Day, 8th October 2020 (for greek users and organisations)
"The contribution of Copernicus in the development of dedicated services for the environment and European citizens"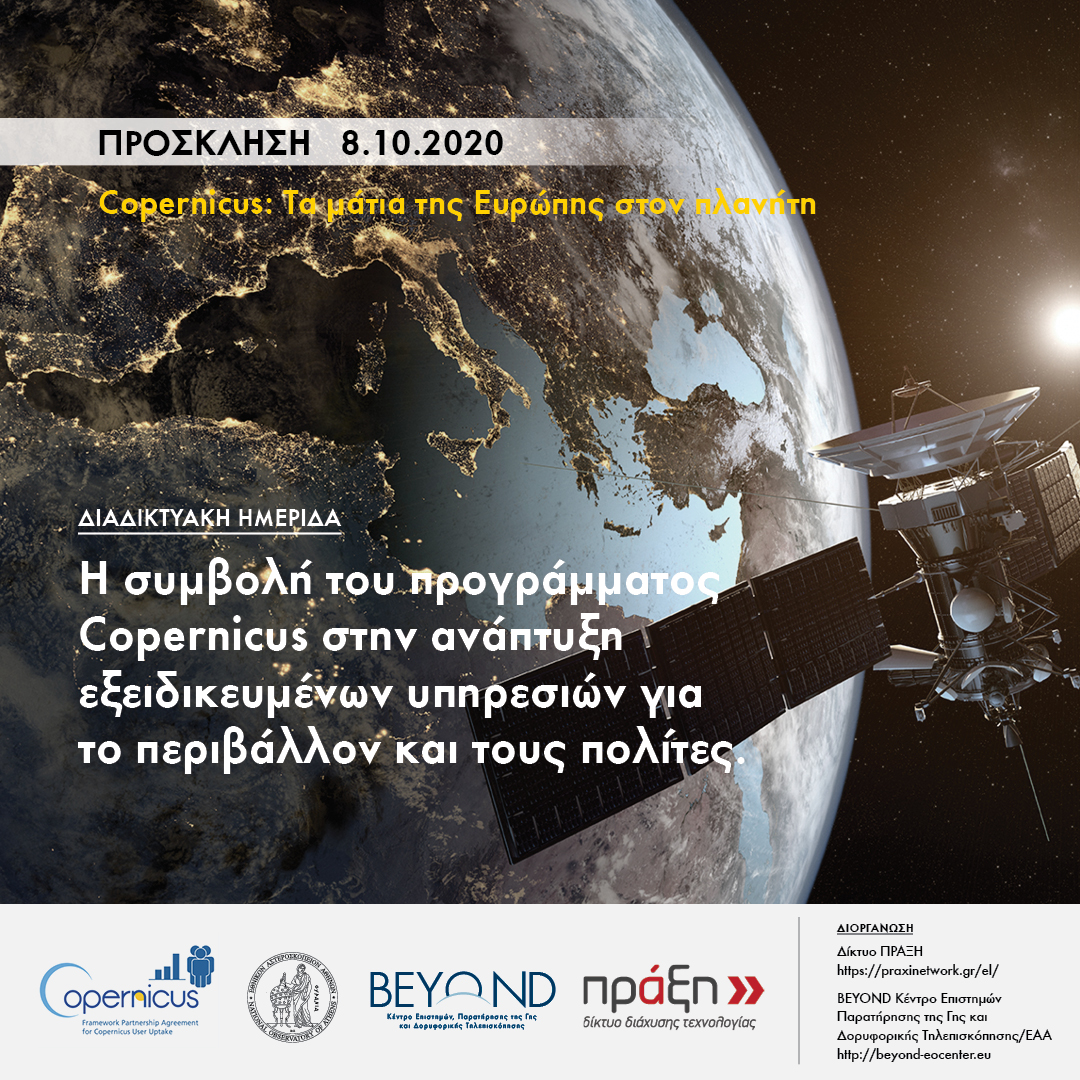 The BEYOND Centre of Excellence of the National Observatory of Athens, in collaboration with PRAXI Network, are organising an info-day, on the services and data of the European Earth Observation Programme 'Copernicus'. The info-day will be organised on the 8th of October, via Zoom platform.
During the info-day, Greek stakeholders (public sector, research organisations and private companies) will present the services and products they have developed and are used for natural disasters management, for most effective tackling of climate change consequences, and for precision agriculture.
This info-day is organised in the framework of the European project 'FP CUP' which aims at increasing the user uptake of Copernicus data and services for the development of innovative products and services.
The agenda of the event can be found here: http://praxinetwork.gr/el/doclib/FP_CUP_draft_agenda.pdf