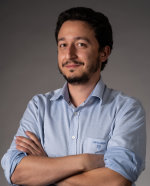 Research Associate | Fire Risk – Machine Learning
Giorgos Giannopoulos received his Diploma in Electrical and Computer Engineering from the National Technical University of Athens (NTUA), Greece, in 2006 and his PhD in Computer Science from NTUA in 2013.
He is currently a Research Associate at the Beyond Center of Excellence of the National Observatory of Athens and at IMSI institute of Athena Research and Innovation Center, while he has also collaborated with the University of Athens, the National Centre for Social Research and the University of the Peloponnese in research and teaching activities.
He has been involved in more than 10 National and European R&D projects in several roles: software engineer, researcher, work package leader, proposal contributor and coordinator. He has performed research on the fields of Information Retrieval, Machine Learning, Data Integration, Geospatial Data Management and Analysis and Semantic Web, while he has been involved in the specification, design and development of cataloguing services for European Research Infrastructures. He has published more than 40 papers and contributed to the development of open source tools in the above areas. His current research interests focus on the adaptation and extension of Machine/Deep Learning methods in various disciplines, including: pattern recognition on RES timeseries; next day-level prediction of forest fires; explainability of recommender systems; analysis and prediction of Solar events; disease diagnosis based on medical images; integration and annotation of spatio-textual data; and fact checking. .