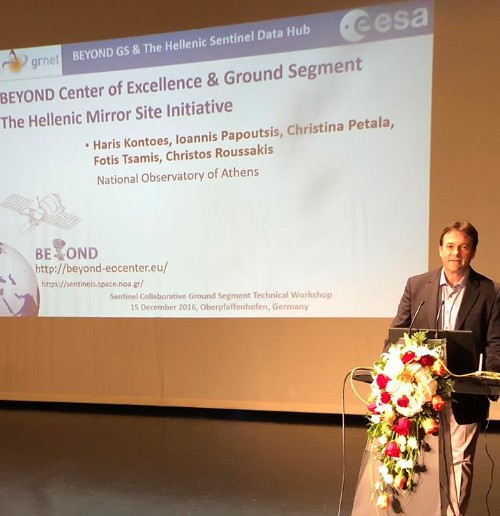 The role of the BEYOND Center of Excellence in COPERNICUS, for the monitoring of natural disasters in support to the Emergency Management Service ( EMS ) (http://emergency.copernicus.eu) and the European Forest Fire Information System (EFFIS) (http://effis.jrc.ec.europa.eu), as well as the role of BEYOND in the massive delivery of Sentinel satellite data to the scientific and stakeholders communities, was presented in the keynote speech given by Haris Kontoes , in the opening of the Geomapplica 2018 International Conference on Geomatics Applications.

The Conference is taking place this week, 25-29 June 2018, in Syros – Mykonos Islands, Greece, organized by the Department of Planning and Regional Development of the School of Engineering, University of Thessaly, Greece.
We are thankful to the organizers for the invitation to participate and present to the audience the support of BEYOND to the EO value adding chain, making freely available the Copernicus data and Services through the Hellenic Mirror Site (https://sentinels.space.noa.gr). Moreover, the free and direct access to volumes of Geospatial Data through the GEOSS portal (http://www.geoportal.org) , and the sustained operation of the GEO-CRADLE Regional Data Hub (http://datahub.geocradle.eu) was also presented.