The Serco Italy space team in Frascati hosted a 2 days International project kick off workshop on the 6th and 7th November to launch EOPEN, the new EU Horizon 2020 research and innovation project led by Serco. The aim of EOPEN is to research and innovate how to make commercial service that is faster, more effective and efficient to how that data is processed and made available to a significantly increased range of those non-traditional users. The EOPEN project team includes partners from Germany, Greece, Finland, Belgium, Italy and South Korea.
H Ομάδα Εθελοντικής Δράσης Χίου ΟΜΙΚΡΟΝ, χρησιμοποιώντας δεδομένα από το FIREHUB, για την περίοδο 1984-2016 και βγάζοντας στατιστικά για την καμμένη έκταση στο νησί της Χίου, εξέδωσε την παρακάτω ανασκόπηση σύμφωνα με την οποία η ομάδα εργασίας προχώρησε σε δράσεις όπως οι παρακάτω:
• Καταγραφές περιοχών με «ιδιαίτερα χαρακτηριστικά»,
• Σχεδιασμό και παραγωγή πρωτότυπης παρουσίασης για τις ανάγκες ενημέρωσης των συμπολιτών μας,
• Σχεδιασμό, με την υποστήριξη του WWF Ελλάδας και τη συνεργασία του Εθνικού Αστεροσκοπείου Αθηνών, ενός (1) τρίπτυχου φυλλαδίου, μιας (1) αφίσας, ενός (1) roll up banner και 2 ταινιών μικρής διάρκειας, με σκοπό τον απολογισμό αλλά και την πρόληψη από τις φωτιές. Η ανασκόπηση της ομάδας για την αντιπυρική Περίοδο 2017 βρίσκεται εδώ.
Περισσότερες λεπτομέρειες στην ιστοσελίδα της ομάδας ΟΜΙΚΡΟΝ http://www.omikron.org.gr/
The BEYOND Center of Excellence: EO Infrastructure, research achievements, and services in the management of natural disasters
Steering & Advisory Committee Meeting II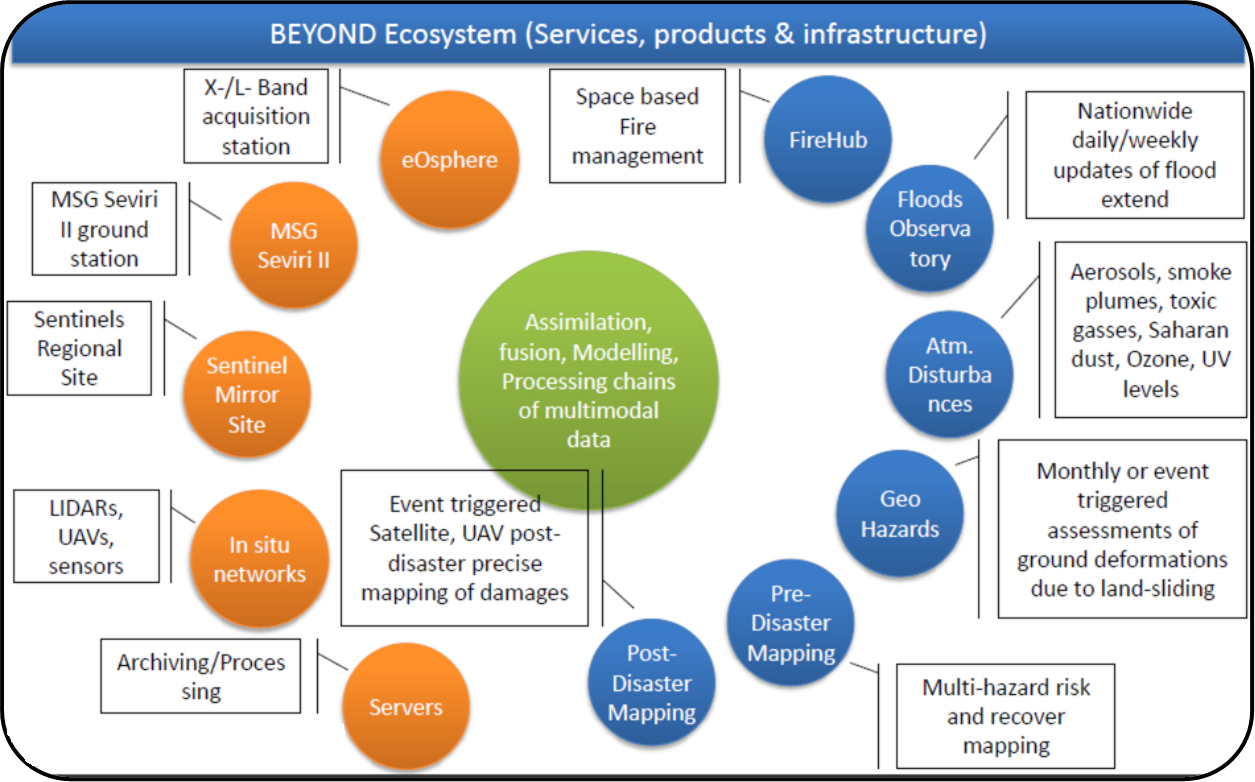 The Institute of Astronomy, & Astrophysics, Space, Applications and Remote Sensing, is awarded the EC project "Building Capacity for a Centre of Excellence for EO - based monitoring of Natural Disasters (BEYOND)"– Ref: 316210 - BEYOND EC project (FP7-REGPOT-2012-2013), funded under the " SEVENTH FRAMEWORK PROGRAMME – Coordination and Support Actions Call ". For this, we invite candidates to apply for: